คอร์สติว IB Language & Literature หลักสูตรเข้มข้น
ติว IB กับคุณครูกวาง ผู้เชี่ยวชาญที่มีประสบการณ์การสอนหลักสูตรนานาชาติยาวกว่า 8 ปี
ผ่านการเรียนรู้แบบ Active Learning ด้วยเทคนิคการแกะและวิเคราะห์ Text ทั้ง Lit & Non- Lit สำหรับการยื่นศึกษาต่อในระดับมหาวิทยาลัยทั้งในประเทศไทยและต่างประเทศ เพื่อให้น้องๆ ทุกคนบรรลุตามเป้าหมายที่ต้องการ 
ด่วน! คลาสเรียนระดับ Premium จำกัดเพียง 10 ที่นั่งเท่านั้น
เริ่มเรียนทันทีเดือนกันยายนนี้ พิชิตคณะและมหาวิทยาลัยในฝันไปพร้อมกับคุณครูกวาง ignite A Star ได้เลย!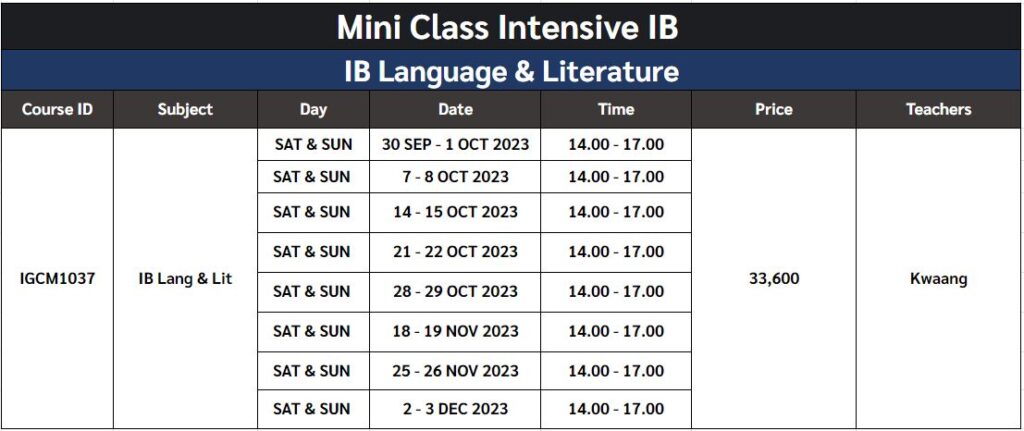 *หมายเหตุ เริ่มเรียนวันที่ 30 SEP และจบคอร์สวันที่ 3 DEC และ วันที่ 4, 5, 11, 12 November ไม่มีการเรียนการสอนคอร์สนี้
เรียน IB Lang & Lit กับครูผู้เชี่ยวชาญ มากประสบการณ์
เรียน IB Lang & Lit กับครูผู้เชี่ยวชาญ มากประสบการณ์
ประสบการณ์ความประทับใจของน้องๆ
I had such a great opportunity to study here. They created such a good vibe and learning experience that made the class really enjoyable. I wasn't stressed at all. I didn't have any worries while learning and wasn't afraid to ask for improvement or advice. They gave me a lot of useful tips that helped me achieve my score.
The course was quite comfortable and casual. They were very helpful and enthusiastic 🙂
พี่ทำให้ผมกล้าพูดขึ้นมากๆ แล้วพี่ก็สอนทั้งแบบ passive learning และผมคิดว่ามันช่วยพัฒนา speaking skills ได้เยอะขึ้นมากๆ ครับ
เลือกเรียนคอร์ส IB ในแบบที่คุณต้องการ
ลงทะเบียนได้เลยตอนนี้ก่อนคอร์สเต็ม!
จำกัดสิทธิ์เพียง 10 ท่านแรกเท่านั้น พิชิตคณะในฝันไปพร้อมกันได้เลย!